Innovating with technology to fight dementia
An estimated 447,115 Australians are living with dementia. Without a medical breakthrough, that number is projected to increase to 589,807 by 2028.
Following a competitive tender in the health-tech industry, Deloitte was engaged to deliver two innovation events (one in Sydney and another in Melbourne) for Dementia Australia in August 2019.
We feel incredibly privileged to be working with Dementia Australia to explore how technological innovations can support people with dementia. Personally, I can think of few other areas in which [we could] have a greater impact that matters.
Deloitte Partner and National Human Services Leader
Helping the Tiwi Islands achieve a big dream
The Tiwi Islands, north of Darwin, have been home to the Tiwi people for thousands of years. In recent times, the local Indigenous community has struggled to establish an independent economy that offers real opportunities and jobs for locals. Protecting natural resources, local customs and values was also a growing concern.
In 2009, the Tiwi Plantations Corporation (TPC) on Melville Island took over a collapsed forestry plantation, hoping to resurrect it and create local jobs, increasing the financial security of the Tiwi Islands people. Almost 10 years later – and with a lot of work and patience, including help from Deloitte – this independent Indigenous-owned company is now progressing well.
In November 2016, TPC was able to demonstrate that it had the funding it required to meet its operational targets, and that the business case to harvest the existing plantation had been validated. However, given TPC's financial position, it was not able to move forward. Deloitte formulated a proposal to enable TPC to continue trading. This involved senior lenders placing their due debts on hold and agreeing to be repaid over a seven-year period.
This solution enabled TPC to reduce debt and secure much-needed time to explore partnerships and commercial opportunities to help put the business on a sustainable footing.
Partner Sal Algeri will be Deloitte's representative on a newly formed advisory board set up for the plantation business and several other Indigenous businesses on the Tiwi Islands. The board will give advice, provide counselling and deliver pro bono services as required.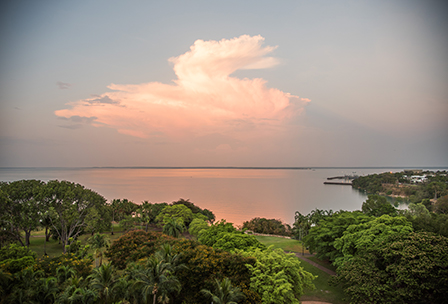 View of Tiwi Islands across the Timor Sea, Darwin, Northern Territory, Australia.
Assisting clients to mitigate climate change
One of the major ways Deloitte Australia helps address climate change is by advising our clients how to manage the business risks arising from it. We provide our clients with a range services focused on assisting them to manage and thrive in the low carbon world. This includes:
Climate change risk assessments
Net zero emissions strategy
Energy management strategy (including sustainable energy and clean-tech)
Energy and climate change policy analysis
Sustainability and integrated reporting and assurance.
We have helped some of Australia's largest and most complex organisations including those in the mining, infrastructure and banking sectors to understand the impacts of climate change under different emission scenarios and to develop emission reduction targets using the Science-based Targets Initiative and develop net zero pathways.
We also want to ensure our clients know we are 'walking the talk', and Deloitte Australia seeks to be a model of good practice in the market. This is a renewed area of focus for our firm.